CheSilo TM ETHYL Cellulose
CheSilo Ethyl Cellulose(abbr.EC) is a kind of white grains or powder, having no smell or tastes. Its 5% soliquoid shows neutral to litmus
test paper. Its specific density 1.07~1.18, heat distortion point: 135~155degree centigrade, and fire point: 330~360 degree centigrade.
EC has good stability to light, heat, oxygen and wetness, and is stable to chemicals. It is resistant to alcali, dilute acid and salting liquid,
soluble in some organic solvents, such as alcohol, ether, ketone, ester, aromatic hydrocarbon and halohydrocarbon, etc,
and compatible to many celluloses, resin and nearly all plasticizers. CheSilo EC has low combustibility, small hydroscopicity and good electric behavior. Its thin film and plastics have good mechanical strength and flexibility in a wide range of temperature.
TYPES AND SPECIFICATIONS
1. Appearance: whitish powder.
2. Ethoxyl Types

3,Viscosity specification of CheSilo EC,mPa.s
The below viscosity is tested in 5%solution at 25℃ in an Ubbelohde viscometer. For medium products, solvent is 60% toluene and 40%
ethanol; for the others, solvent is 80% toluene and 20% ethanol.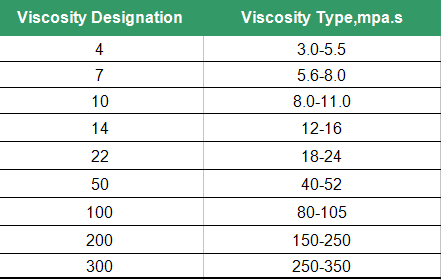 PACKAGING AND STORAGE
The products are supplied in multiply paper bags with polyethylene inner liner, with the net weight of 25KG,20KG or 10 KG.
The product should be stored under dry and clean conditions in its original packing and away from heat.