CheSilo TM Methyl Cellulose and Hydroxy Propyl Methyl Cellulose
On Food Grade and Pharmacy
CheSilo Hydroxy Propyl Methyl Cellulose(abb.CheSilo HPMC) widely used as thickener, emulsifier, binder, protective colloid, stabilizer,
suspending aids and water-retention agents in food industry and pharmacy.
Typical Specification
1.Technical index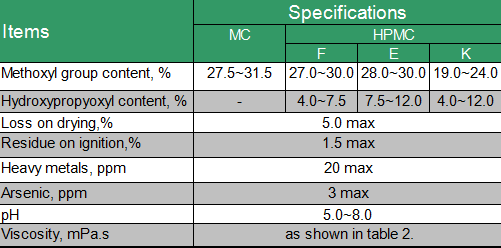 2.Viscosity specification of CheSilo,mPa.s
The standard method for the viscosity measurement of aqueous solutions prescribes the use of the NDJ-1, at 20 ℃. Solution concentration of 2% is based on bone-dry material.
The viscosity can be adjusted according to the specific requirement.

Application Recommendation Sheet for FOOD.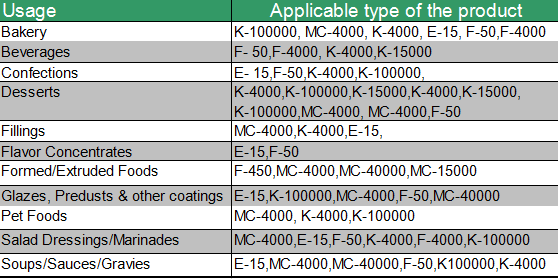 Application Recommendation Sheet for Pharmacy.
Usage

Applicable type of the product

Typical Use Level

Bulk Laxative

MA-4000,K-4000,

K-100,000

3-30%

Creams,Gels,and Ointments

MA-4000,E-4000,

F-4000,K-4000

1-5%

Ophthalmic Preparations

E-4000

0.1-0.5%

Eye drops preparations

MA-4000, F-4000,K-4000

0.1-0.5%

Suspending agent

MA-4000, E-4000,K-4000

1-2%

Antacids

MA-1500,MA-4000,E-4000, K-4000, K-15000,F-4000

1-2%

Tablets binder

E-5, F-50, K-100

0.5-5%

Conventional Tablet Coating

E-5,E-15

0.5-5%

Conventional Wet Granulation

E-5,E-15

2-6%

Controlled Release Coatings

E-5,E-15

3-20%

Tablet coatings

E-5, E-15, E-50

0.5-5%

Controlled Release MatrixTablets

K-100,000,K-15,000,

K-4000,E-4000

20-55%

Vegetable Capsules

E-5

5 – 20%
PACKAGING AND STORAGE
The products are supplied in multiply paper bags with polyethylene inner liner or fiber drum, with the net weight of 25KG.
The product should be stored under dry and clean conditions in its original packing and
away from heat. The product cannot be put together with other chemicals.
More info., contact info@chemixsc.com