CheSilo in Personal Care or Cosmetic
CheSilo Hydroxyethyl cellulose (HEC) C Series is produced specially for personal care such as washing liquid, hair conditioner, shampoo,
bubble bath, body wash as stabilizer,emulsion agent,thickener and water retainer. It is soluble in hot or cold water.
TYPES AND SPECIFICATIONS
The types of CheSilo HEC C mainly differs in the solution viscosity.
Viscosity specification of CheSilo HEC C, at 25°C, mPa.s(tested by Brookfield RVT)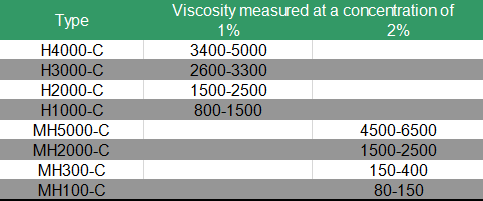 Other specifications of CheSilo Hydroxy Ethyl Cellulose
Moisture content (as packed), %: 5 max.
pH of a solution: 6.0-8.0
ACKAGING AND STORAGE
The products are supplied in multiply paper bags with polyethylene inner liner, with the net weight of 25KG.
The product should be stored under dry and clean conditions in its original packing and away from heat. The product is hygroscopic.
The packaging is selected in a way to avoid ingress of moisture,but the water content of the packed product may increase if not stored dry.